CONSUMER DEFENSE & NEGOTIATION IN FORT LAUDERDALE AND MIAMI
CREDIT CARD & DEBT DEFENSE ATTORNEYS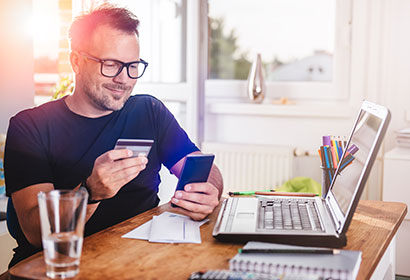 At Loan Lawyers, our entire firm is dedicated exclusively to promoting and fighting for the rights of consumers and individuals in need of assistance with their debt issues. We make it our business to know how credit card companies, debt collectors, and their lawyers process and litigate credit card cases, in fact one of our Senior Associates used to work as an attorney for the credit card companies.
What most people don't realize is that there are a multitude of strategic legal defenses available to consumers when they are sued for credit card debt.
Not only have our Fort Lauderdale consumer litigation lawyers been successful in getting credit card lawsuits thrown out of court or settled for pennies on the dollar, we have also been able to obtain the following results:
Get the debt completely removed
Get their credit repaired
Recovered thousands of dollars in damages on behalf of our clients
DEFENDING YOUR CASE IN FORT LAUDERDALE & MIAMI
Oftentimes, credit card lawsuits are filled with negligence, misrepresentations, and fraud, things that most consumers don't even know exist. Credit card companies have teams of lawyers and employ law firms throughout the country to process their cases at lightning speed. Statistically, more than 95% of credit card lawsuits go uncontested, meaning the company will win a default judgment and can then garnish wages, bank account balances, or even take away people's cars. These companies know this, and therefore frequently file erroneous lawsuits without regard for accuracy or proper legal procedures, improperly collecting debts from consumers.
In a recent article in New York Times, Noach Dear, a judge in Brooklyn, who presides over 100's of credit card lawsuits a day, was quoted as saying that "Roughly 90% of the credit card lawsuits are flawed and can't prove the person owes the debt."
Contact our firm for trusted, reliable counsel.
NEED REPRESENTATION IN SOUTH FLORIDA? CALL LOAN LAWYERS TODAY.
We at Loan Lawyers know how to beat the credit card companies and debt collectors and have a proven track record of doing so. We have very affordable flat rate fees and payment plans, and handle many cases on a contingency basis, meaning you do won't pay any attorney's fees or costs unless we win your case.
Why Choose Loan Lawyers to defend your credit card or debt lawsuit?
We may be able to get your case completely thrown out of court.
We know how to beat the credit card and debt collection companies and have a proven record of success doing so.
We may be able to recover money for you even if you owe the debt.
We offer very affordable flat rate fees, and many cases are taken on a contingency basis meaning you don't pay us anything unless we win.
DEBT BUYERS AND LAW FIRMS
Below is a partial list of some of the debt buyers and their law firms that we have extensive experience in winning litigation against and getting our clients' substantial reductions in their debt:
Debt buyers: Portfolio Recovery LLC / Portfolio Recovery Associates, LLC CACH, LLC Midland Funding, LLC / Midland Credit Management Asset Acceptance, LLC Unifund CCR / Unifund Partners CCR LVNV Funding, LLC Cavalry SPV I, LLC / Cavalry SPV II, LLC Surf Consultants, LLC Debt collection law firms: Andreu, Palma & Andreau, PL Colling & Winter, LLC Debski & Associates, P.A. Hayt, Hayt & Landau, P.L Hunt & Kahn, P.A. Law Offices of Hayt, Hayt & Landau, P.L Midland Credit Management, Inc. Modlin & Associates, P.A O&L Law Group Pollack & Rosen, P.A. Portfolio Recovery Associates, LLC Rausch, Strurm, Israel, Enerson, LLC Rolfe & Lobello, P.A. The Law Offices of Erskine & Fleisher William C. Grossman Law, PLLC Zackheim & Associates, P.A. Zwicker & Associates, P.C.