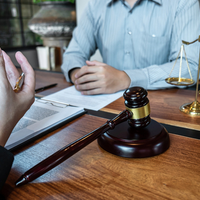 If you are facing foreclosure, know that all hope is not lost. You have the right to hire an attorney to represent you and help you protect your rights to your property. Whether you are looking for a loan workout, are looking to avoid a deficiency judgment, if you suspect that you were the victim or predatory lending, or for any other reason, it's crucial to hire a lawyer with the right skills and experience to handle your case.
Hiring an experienced foreclosure attorney can give you peace of mind as you face this challenge. Here, we'll discuss what to look for in an attorney and how to feel confident in the choice that you ultimately make.
What Kind of Lawyers Handle Foreclosure Defense?
Foreclosure defense is a complex area of law. Foreclosure defense lawyers must understand the property buying process in Florida and problems that may arise during ownership. Florida foreclosure attorneys need an in-depth understanding of consumer issues, the loan modification process, predatory lending schemes, and other problems that can lead to an unjust foreclosure.
Loan Lawyers are dedicated foreclosure defense attorneys—the kind of attorney you need to protect yourself and your family.
Funding a Reliable and Trustworthy Foreclosure Defense Attorney
When choosing a foreclosure attorney, it is important that you select a lawyer you can trust and rely on. Here are some things to consider:
Resources
Your Florida foreclosure attorney should have the resources necessary to handle your case. This includes having knowledgeable foreclosure defense attorneys and support staff. These individuals should have a robust understanding of predatory lending and state and federal consumer laws that the bank or financial institution may have violated.
A foreclosure defense lawyer may be able to help you avoid foreclosure by using one or more methods such as:
Loan modification – You may be able to modify your loan so that you add missed payments to the end of your loan term or reduce your monthly payment to make it more manageable.
Reinstatement – If you are able to refinance the property or come up with the funds to make your mortgage current, reinstatement maybe a viable option for you.
Negotiation – An experienced Florida foreclosure attorney can attempt to resolve your case through negotiation to keep the case out of court.
Litigation – If the bank has committed violations that impact your rights or you have other viable legal defenses, a foreclosure defense lawyer may suggest litigating the case.
What to Look For
Consider the following when choosing a foreclosure attorney:
Experience – When considering which foreclosure defense attorney to hire, ask about their experience in consumer issues at large, as well as about foreclosure defense in particular.
Past results – Check if the lawyer has a history of previous success in handling other foreclosure defense cases.
Knowledge – A strong foreclosure defense requires that your legal advocate understands real property and consumer laws. This knowledge can help your lawyer devise a customized plan for your case.
Reputation – You can investigate a lawyer's reputation by checking with local bar associations and by reading reviews online.
Stated plan – After meeting with a foreclosure defense lawyer, you should have a good understanding of how the lawyer plans to help you. This may mean seeking a loan modification, refinancing your property, pursuing a rescission of the loan due to predatory lending, signing a deed in lieu of foreclosure, filing for bankruptcy, or pursuing other legal remedies against the bank.
Your Florida foreclosure attorney should be willing to answer any questions you have about the process and their background.
Watch Out for Warning Signs
Also, watch out for the following warning signs when choosing a foreclosure attorney:
Guaranteed results – No ethical Florida foreclosure attorney will guarantee a specific outcome. While the lawyer may have confidence in their skills, they cannot predict how a court might rule in a particular case. An ethical lawyer should inform you of all potential outcomes, good and bad.
Not putting your interests first – Be alarmed if a lawyer is willing to take your money when you are unable to afford to support your home. This may indicate that the lawyer is more concerned about their fee than about your financial security.
Bad reviews – Home rescue scams are one of the most common consumer scams. Predators may target homeowners in distress because they know how important a person's home is to them. Check any reviews about a foreclosure defense firm you are considering hiring to see if the firm has defrauded other people.
A one-size fits all approach – Foreclosure defense relies on your legal advocate's ability to understand your unique situation and apply customized solutions. Avoid a foreclosure defense mill that tries the same tactics over and over regardless of their clients' individual circumstances.
Why You Can Trust Loan Lawyers
Loan Lawyers was established in 2009 when two attorneys left lucrative careers in personal injury law to provide much needed legal assistance to Florida residents adversely affected by the housing crisis.
Since that time, this foreclosure defense, debt defense, and bankruptcy law firm has helped more than 5,000 families and saved over 2,000 homes in South Florida. This includes eliminating more than $100 million in mortgage principal and consumer debt.
Time and time again, we have been able to find creative solutions that have eliminated some of our clients' mortgage debt, modified their loans, or made claims against banks guilty of predatory practices to help our clients keep their homes.
Today, Loan Lawyers consists of nine highly experienced consumer rights attorneys and more than 30 staff members whose sole focus is to help homeowners and consumers with debt issues. Our vigorous legal defense has garnered the appreciation of our clients, as well as the respect of our adversaries and the legal community.
Our firm has been recognized with local, state, and national awards for our zealous legal advocacy and results. We put our clients and their needs first, which has resulted in a proven track record of success.
Contact Us Now to Find Out How We Can Help
At Loan Lawyers, our compassionate foreclosure defense, debt defense, and bankruptcy lawyers are here to help. We are ready to thoroughly evaluate the circumstances surrounding your case and determine all legal options available to you.
Call us or contact us online for a free and confidential review of your situation and legal options.