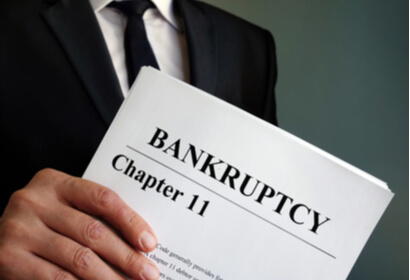 When a business or an individual operating a business becomes unable to service debts or pay creditors, entering the Chapter 11 business bankruptcy process may be an option.
Unlike a Chapter 7 asset liquidation, Chapter 11 bankruptcy (Title 11 of the United States Code)  is a form of business reorganization. Chapter 11 bankruptcy has the benefit of allowing a business in debt to continue operation, get its finances under control, and ideally achieve profitability by restructuring the company, modifying the payment terms for its debts, and reducing other obligations.
If your business has hit a rough patch, you may be wondering, "should I file Chapter 11?" Chapter 11 can be a legally complex, time-consuming process for even the smallest business. At Loan Lawyers, we have more than 100 years of combined experience helping South Florida businesses and business owners with debt issues, including handling business bankruptcies, Chapter 11 bankruptcy, and other multifaceted solutions on the path to your financial stability and profitability.
The Chapter 11 business bankruptcy attorneys at Loan Lawyers in Ft. Lauderdale, FL can go over your options and help you decide what is best for your business. Reach us by phone or online to learn about your legal options. We have many strategies to help our clients achieve the best possible outcome for their specific situation.
Chapter 11, Title 11 Bankruptcy Process
The Chapter 11 bankruptcy process is an option when a business is unable to service its debt load. The business can file a petition for a Florida Chapter 11 bankruptcy (a voluntary bankruptcy), or the creditors can file a petition on the debtor's behalf (an involuntary bankruptcy).
A Chapter 11 bankruptcy begins with the filing of the petition with the bankruptcy court. The petition includes a list of the company's assets, debts, income, and expenses, and a summary of its financial affairs. The petition filing triggers what is known as an automatic stay. This is a period of time during which a debtor's creditors are prohibited from continuing collection efforts against the debtor or the debtor's assets unless the creditor receives permission from the bankruptcy court.
After filing the bankruptcy petition, the debtor must attend an initial meeting with the U.S. Trustee to obtain preliminary information and ensure the debtor understands all responsibilities. Thirty to 45 days after the filing of the petition, the bankruptcy court will hold a public hearing with the debtor and its creditors, during which the creditors may question the debtor about the petition details.
The debtor has an exclusive period lasting between 120 and 180 days in which it is the only party entitled to propose a reorganization plan to the bankruptcy court. The reorganization plan will specify how the debtor plans to reorganize operations to become profitable and how the debtor proposes to treat its creditors. If a reorganization plan is not proposed and accepted during the debtor's exclusive period, any party with an interest in the proceeding may propose a plan.
After a reorganization plan is proposed, the creditors must vote on it. If less than all creditors approve, the debtor can ask the bankruptcy court to confirm the plan over the objections of creditors, a process called cramdown. Otherwise, the bankruptcy court will not confirm a reorganization plan without approval from all creditors.
Once a plan is approved, a debtor begins making payments to creditors according to the reorganization plan. The Chapter 11 bankruptcy process typically ends once a debtor makes all payments to the class of unsecured creditors as required under the plan. At that point, a debtor can ask the court to discharge the remainder of the unsecured debts, which will prevent unsecured creditors from any further collection attempts.
What Are the Benefits of Chapter 11 Bankruptcy?
Chapter 11, title 11 is a part of the U.S. Bankruptcy Code that governs a form of bankruptcy available to businesses. Although some people may associate Chapter 11 bankruptcy with large corporations, small or family-run businesses file most Chapter 11 cases.
Chapter 11 bankruptcy can provide small-business debtors with certain benefits, including:
Avoidance of a creditors' committee – The bankruptcy court can decline to order the appointment of a creditors' committee. If so, a business can avoid the expense of lawyers and other professionals appointed by a creditors' committee on the debtor's dime.
Special reporting requirements – Small businesses seeking Chapter 11 bankruptcy can attach their most recent balance sheet, statement of operations, cash flow statement, and federal tax return to their bankruptcy petition.
Longer exclusivity period for the plan proposal – Although small businesses have 300 days to propose a reorganization plan (unlike standard Chapter 11 cases that impose no time limit), small businesses receive a longer exclusivity period in which only they, and not their creditors, can propose a reorganization plan to the court.
Oversight by the U.S. Trustee – Trusteeship is provided by the U.S. Trustee on behalf of the U.S. Department of Justice.
Chapter 11 cases for large corporations can take an extraordinarily long time to complete the reorganization plan and court proceedings. Special features for small businesses seeking Chapter 11 bankruptcy, however, can streamline the process and reduce the time – and accordingly, the expense – of the bankruptcy process for the reorganization and the eventually emergence from bankruptcy.
Chapter 11 vs. Chapter 13
Unlike Chapter 7 bankruptcy, in which a debtor's assets are liquidated to pay off creditors, Chapter 11 and Chapter 13 bankruptcy involve a reorganization plan that sets forth how a debtor will ultimately pay off creditors. This is generally implemented by selling off some assets to pay down outstanding debts until the obligations become manageable to afford within the debtor's income and means.
However, while individuals opt for Chapter 13 bankruptcy, Chapter 11 bankruptcy is intended for businesses. Chapter 11 can also be used by individuals for debts incurred in the course of operating a business, such as in a sole proprietorship.
Additionally, while Chapter 13 is exclusively used in a reorganization of a debtor's finances (and converted to Chapter 7 if liquidation is sought instead), a Chapter 11 bankruptcy can result in a sell-off of a debtor's business when a reorganization is determined to be unfeasible.
How Long Does Chapter 11 Take?
The length of the Chapter 11 court proceedings depends on the scope of the business entity and the complexity of its finances. For a small business, Chapter 11 court proceedings can take only a few months. For a large multinational corporation, Chapter 11 court proceedings can easily last years.
Upon the filing of a Florida Chapter 11 bankruptcy petition, the debtor has up to 120 days (or 180 days in certain circumstances) in which it has the exclusive right to propose a reorganization plan to the court. If a plan is proposed within the exclusivity period, the period is extended to 180 days to grant the debtor time to obtain confirmation of the plan.
If a reorganization plan is not proposed and adopted within the debtor's exclusivity period, a reorganization plan may then be proposed by any party with an interest in the proceedings. The debtor's creditors are then entitled to vote on any proposed reorganization plan.
Plans are proposed and amended until one is adopted and confirmed, or if no plan is adopted and confirmed until the bankruptcy court determines that reorganization is not feasible and converts the petition to a Chapter 7 bankruptcy or terminates the proceeding.
As a result, any title 11 bankruptcy can take, at a minimum, several weeks to several months to move through the process of proposal, adoption, and confirmation.
How Much Does Chapter 11 Bankruptcy Cost?
Chapter 11 bankruptcy is considerably more expensive than other forms of bankruptcy. This is because the debtor must come up with a comprehensive reorganization plan that projects a return to profitability along with a debt repayment plan by which the debtor proposes to bring its obligations up to date.
As a result, a debtor usually needs to hire attorneys, accountants, financial experts, and business experts to put together a proposed reorganization plan and a debt repayment plan and then negotiate with a debtor's creditors for approval. If a Chapter 11 debtor has uncomplicated finances with no disputes over the reorganization and debt repayment plan, a Chapter 11 bankruptcy can cost a relatively modest amount. However, in many Chapter 11 cases, the costs of attorneys, financial experts, and other expenses can significantly increase the overall cost.
Although Chapter 11 bankruptcy can be pricey, it can be a worthwhile expense if a business can be made profitable following a reorganization plan that gets debts under control. Unlike a Chapter 7 bankruptcy that requires liquidation of the debtor's assets, a Chapter 11 bankruptcy allows an owner to maintain ownership of an active business after exiting from bankruptcy.
How Our Chapter 11 Bankruptcy Attorneys Can Help You
When your business's finances spiral out of control and you are unable to meet your debt obligations, the aggressive Fort Lauderdale Chapter 11 bankruptcy attorneys at Loan Lawyers can help put your business back on track.
We can guide your company through the entire technical process of a Chapter 11 business bankruptcy petition. We will work with financial experts to set up a path for your company to return to profitability. We will negotiate with your creditors to approve a reorganization plan that will allow you to pay down or discharge your business's debts. We handle all court appearances before the bankruptcy judge.
Don't spend another day with your company on the financial brink. Contact the Chapter 11 bankruptcy attorneys at Loan Lawyers today to schedule a free consultation with our legal team to learn more about your legal rights and options. Call us or reach out to us online. We serve clients in South Florida and throughout the state.